A

M

essage from the

O

wner

Growing up, airplanes and aviation always intrigued me. Driving by Newark Airport and watching the jets take off and land was one of my favorite activities. As an adult, the time constraints of having a career and raising children did not allow me to pursue this passion.

In 2004, as I was nearing the end of a satisfying career as a cardiologist, our family purchased a vacation home in Cape Cod. After making the six-hour drive from New Jersey once or twice, I knew it was time to revisit that passion. After many hours of hard work and training, I received my Private Pilot's license, and purchased a new Cessna 182. This is a single engine piston airplane, simple and similar to the aircraft I learned in. I immediately went on to further my credentials by earning an Instrument Rating and a Commercial Pilot's license.

I regularly flew not only to Cape Cod in the summer, but Rutland, Vermont in the winter. In addition, I became involved in Angel Flight Northeast, a charitable organization that flies needy patients from their homes to regional medical centers, and/or home.

In 2006, I purchased a Beech Baron. This is a twin-engine piston powered aircraft, with a much larger cabin. After 2 years in the Baron and almost 1000 flight hours later, I purchased the new King Air C90 GTi. The King Air is a cabin class, pressurized, twin engine, turbine-powered aircraft. This is our family plane, my Angel Flight plane and now the airplane I am proud to offer for charter flights.

As a cardiologist, I brought a very disciplined and patient friendly practice environment to the office every day. I trained to the highest standards, and was very sensitive to my patient's needs. As an Airline Transport Pilot and King Air owner, I offer these same standards and sensitivity to my charter clients.

Private air passengers have many choices, and I am confident we are the optimal choice because of the emphasis we put on safety, attention to detail, and competitive pricing. Give us a chance, and I'm sure you will agree.

William Goldberg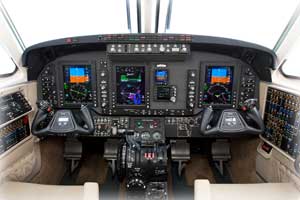 Y

our

C

rew

Your flight crew is superbly qualified. Both pilots have been carefully selected and are professionals with thousands of flying hours between them. They are always attentive to the special needs of passengers. Our Captain holds an Airline Transport Pilot (ATP) Federal Aviation Administration license. The ATP is the highest pilot certification issued by the FAA. In addition, our flight crews receive semi-annual training at Flight Safety International in a full-motion flight simulator and must pass numerous tests administered by the Federal Aviation Administration under Federal Aviation Regulations Part 135 (air taxi/ air charter rules). At Sunnyfield Aviation, there are no worries about your crew's qualifications.